Should the Bills Fire Defensive Coordinator George Edwards?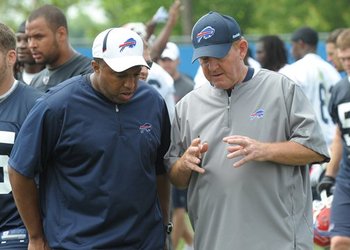 The Buffalo Bills made some suprising strides in the 2010 season, especially on offense. Ryan Fitzpatrick and his inexperienced receiving corp performed at a much higher level than many expected.

But with a 4-12 record, a lot went wrong for the Bills, and their defense was one of the worst units in the NFL this season.

Newly appointed defensive coordinator George Edwards began his tenure with an attempt at the 3-4 defense, then transitioned to more multiple front looks, none of which were successful at stopping the run whatsoever. They hardly struck fear into opposing quarterbacks on passing downs, either.

The Bills promptly fired inside linebackers coach DeMontie Cross, after a season that saw the Bills finish dead last against the run, giving up just shy of 170 yards per game.

Whenever a particular unit performs so poorly there's going to be speculation to fire the coach who's leading that team, and in this case, we'll place George Edwards on the hot seat.

Here are a few reasons that lead me to believe a new defensive coordinator could be manning the sidelines for the Bills next season.



1. Some Coordinators Have Had A Short Leash In Buffalo

Although it's not a usual practice across the NFL, the Bills have some history firing first year coordinators.

Offensive coordinator Dan Henning left Buffalo after the 1997 campaign. Mike Sheppard was relieved of his duties after the forgettable 2001 season. The firing of Turk Schonert is still fresh in our minds.

Kevin Gilbride only lasted two seasons as offensive coordinator.

The Bills defensive didn't improve a bit this year, in fact, some would even say the defense regressed, something that doesn't bode well for Edwards.

2. Buffalo Needs To Hire Former Head Coaches As Coordinators

I don't know if it's just me, but it seems like the majority of the NFL's upper echelon always has former head coaches as coordinators. I'm not sure what it means, but the experience leading an entire club seems to pay dividends when those coaches can focus on one aspect of the game.

The Colts and Seahawks were the only 2010 postseason teams without a coordinator who at one point was a head coach.

In Buffalo, it's rarely been the case. The last former head coach turned coordinator was Sam Wyche in 2005.

Think it's time for a change?

This leads me to my next point....

3. The Quality Coaches Available

Dave Wannstedt has already been to Buffalo, and even though he's sparked interest across the league, he'd be a great fit controlling the defense.

Mike Singletary isn't on the radar right now, but he'd certainly bring a new toughness to a relatively weak unit. (looks like he's going to Minnesota)

The darkhorse for me, and someone who I'd love to see wearing a Bills polo is Eric Mangini.

Sure, we hated him for a few years while he coached the Jets en route to his "Mangenius" montra, but he'd bring one thing to the table that no one else could; the blueprint to beating the Patriots.
His Jets team defeated the Patriots twice while he was in East Rutherford, and his Browns totally dismantled the Pats in Week 7, 34-14. Both teams were obviously overmatched physically oand weren't as talented, but he found a way to get it done against New England, something the Bills haven't done since Opening Weekend in 2003. (hate writing that)

Mangini's familiarity with Belicheck is unparalleled, and he even wrote a column in the New York Post outlining what the Jets needed to do to unseat the Patriots in the playoffs. A lot of what he wrote came true on Sunday in their 28-21 win.

Conclusion

In the end, Buffalo will probably hold on to George Edwards for another season, but I wouldn't be totally floored if the Bills made a move to bolster their defensive unit, clearly their biggest weakness in 2010.